Risk Assessment and Training
FireSec Risk Assesment and training is headed by our key partner Allan Rotchell who completes or oversees all of the fire risk assessments; he is a former Divisional Officer with West Midlands Fire Service. With 36 years in the fire service, Allan brings a wealth of experience concerning all things fire to every job.
Member of the Institute of Fire Safety Managers

Graduate of the Institute of Fire Engineers

National Examination Body for Occupational Safety & Health: Certificate

Diploma in Management Studies Fire Service College - Inspecting Officers' Course

Fire Service College - Divisional Command Course

Fire Service College - Hazardous Materials Course
We pride ourselves in producing comprehensive reports that are written in plain English and very clearly tell you:
• What you have to do (we illustrate the report with photographs to help)
• A priority order in which to do them
• The standards needed i.e. 30 minutes fire resistance is required
• How to train your Staff
• The minimum levels of equipment required
• The frequency for testing equipment
We provide the following paperwork:
• Staff training records
• Equipment test records
• Evacuation Records
• A Fire Safety Policy for your company
• Safety information for visitors and contractors
• A floor plan of the building showing fire resistance, equipment, signs and notices.
We don't just do the assessment and leave you with it!
• We ensure you understand the report and just what it is you have to do
• We give you advice and guidance concerning choosing suitable contractors if required
• We act as your "specialist" in dealing with the fire service
• We will review your fire risk assessment after 12 months
• We are available for telephone advice for up to a year post assessment
Our Fire Risk Assessment reports are presented in a ring binder that contains everything you need so that you can keep all of your fire information together for ease of use and access.
The format is approved by the fire service as it is easy to audit by their Inspecting Officers.
A fire risk assessment is an organised and methodical look at your premises, the activities carried on there and the likelihood that a fire could start and cause harm to persons in and around the premises (Relevant Persons).
The aims of a fire risk assessment are:
To identify fire hazards.

To reduce the risk of those hazards causing harm to as low as reasonably practicable.
To decide what physical fire precautions and management arrangements are necessary to ensure the safety of people in your premises if a fire does start.
Here is a selection of some of the premises we have helped:
Commercial, Industrial and Retail
Factories, Warehouses, Office's, Photographic Studio's, Supermarkets, Shops
Entertainment
Pubs, Clubs, Nightclubs, Restaurants, Café's
Education
Schools both local authority and public at all age levels, Boarding Schools, Special Schools, Nurseries and Colleges
Health Care
Nursing Homes, Care Homes, Day Centres, Doctor's and Dentist's Surgeries and clinics
The Fire Safety Risk Assessment will be undertaken using the 5 Step Procedure as detailed below. Professional judgment will be used in considering the issues highlighted in the table below to determine the risk rating of the premises under each category. The issues can be divided into two categories:
Preventative Measures:
Fire Hazards, Risks to Relevant Persons
Protective Measures:
The removal or reduction of risks to the relevant persons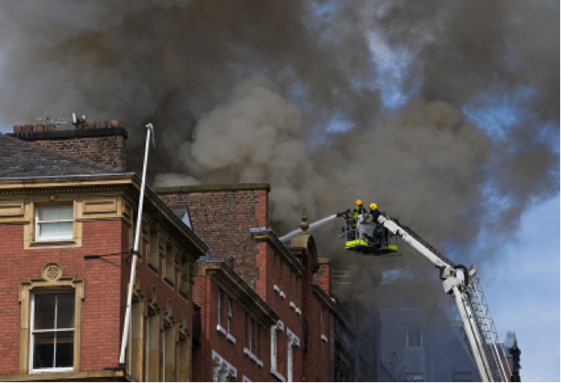 Step 1: Identify Fire Hazards
Sources of Ignition

Sources of Fuel

Sources of Oxygen
Step 2: Identify People at Risk
People in and around the Premises

Persons Especially at Risk
Step 3: Evaluate, Remove Reduce and Protect from Risk
Evaluate the risk of a fire occurring

Evaluate the risk to people from fire

Remove or reduce the fire hazards

Remove or Reduce the risks to people

Detection and Warning

Fire-Fighting

Escape Routes

Lighting

Signs and Notices

Maintenance
Step 4: Record, plan, inform, instruct and train
Record significant finding and action taken

Prepare an emergency plan

Inform and instruct relevant people, co-operate and co-ordinate with others

Provide training
Step 5: Review
Keep assessment under review

Revise where necessary
Those people especially at risk if there is a fire have been identified as relevant persons and include, employees who work alone and/or in isolated areas, people who are unfamiliar with the premises, contractors, visitors, customers, people with disabilities or those who may have some other reason for not being able to leave the premises quickly, other persons in the immediate vicinity of the premises and people with language difficulties.
On the basis that the risk of fire cannot be totally excluded the protective measures provided within the premises are to ensure the safe evacuation of the Relevant Persons.
This means the fire precautions you must provide and maintain are those which are needed to reasonably protect relevant persons from risks to them in case of fire. This will be determined by the findings of this risk assessment including details of the preventative measures you will have to undertake.

In practice, it is very unlikely, that a properly conducted fire risk assessment, which takes into account all the matters relevant for the safety of persons in case of fire, will conclude that no fire precautions (including maintenance) are necessary.
The terms 'hazard' and 'risk' are used throughout our assessments and it is important that you have a clear understanding of how these should be used.
Hazard: anything that has the potential to cause harm.
Risk: the chance of harm occurring.
In order to ensure compliance with the requirements of the Regulatory Reform (Fire Safety) Order, the following Regulations and Codes of Practice need to be observed.
Building Regulations Approved Document 'B' Fire Safety

HM Government Fire Risk Assessment Guidance Documents

British Standard 5839, Part 1 Fire Alarm System Installation

British Standard 5266, Part 1 Emergency Lighting

British Standard 5306, Part 3 Maintenance of Fire Extinguishers

British Standard 5306, Part 8 Selection and Installation of Fire Extinguishers

British Standard 5588, Part 11 COP for Shops, Offices, Industrial Storage and other similar Buildings

British Standard 5588, Part 12 Managing Fire Safely

The Health & Safety (Safety Signs and Signals) Regulations
The responsible person may need to take into account other Standards and Codes of Practice if the circumstances require. However, the above are the key compliance codes.